People nowadays follow weird things for the sake of trends, sometimes half of the world doesn't even realize what's it about. But, when you talk about beauty trends, that's on a whole new level altogether. You'll always be finding new beauty trends doing the rounds and you won't even realize how soon they become fashion frenzy. Well, it's time that you catch up with the newest beauty trends that the modern-stylish girls follow!
These are the new beauty trends that modern stylish girls are following!
1. Purple hair color.
Yup, you'd find that this particular coloring trend is getting really famous that girls are now coloring their hair purple. I mean why wouldn't they, this color looks absolutely gorgeous especially when somebody gets it right!
2. Natural brows. 
Right from their natural shape, to color, to size, everything natural. Well, that is what this year's eyebrow trend calls for.
3. Ab crack.
If you still think that six-pack abs are what's in, you're highly mistaken, then I'm sorry, but you have a lot to catch up on. The new trend for the belly region in ab crack, wondering what that is? Well, it is a vertical line that clearly presents a division. But, be prepared to be on a strict diet and do special exercises to get this one right.
4. Draping.
If you've been wondering what this is all about, then draping is a technique where you use different shades of blushing for contouring. The lighter and softer colors are chosen as a base and the darker or warmer color are used to enhance the cheekbones.
5. Tattoo freckles. 
There was a time when freckles were not considered to be beautiful. but now, thanks to new beauty trends people who have freckles by birth are really proud of them and show them off boldly. But those who don't have them by birth get it by tattooing them on their faces.
6. Piercing your finger.
Well, I have no idea how did people come up with this idea or are totally fine with something staying pierced in your finger. But, then again trends know no limit. And what is the better way to be wearing a diamond other than getting it pierced?
7. Child bangs.
Yep, you read that absolutely correct. This Audrey Hepburn style bangs are really what's in now, it doesn't require much effort and actually makes you look a couple of years younger.
8. Stretch marks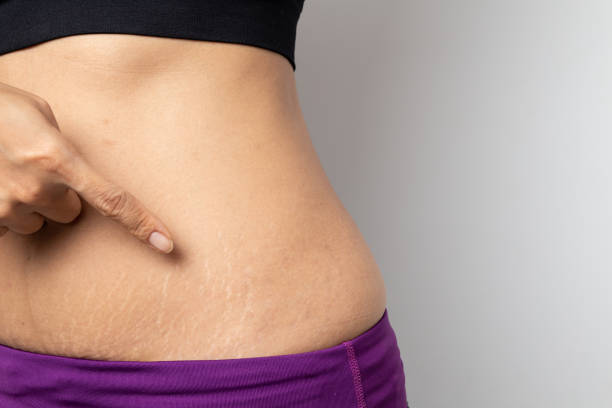 Stretch marks aren't something that girls like to flaunt. Well, none of us like cellulite marks to be very honest. But, now you can an easy way out of it, how you ask? Well, a tattoo artist in Brazil has come up with a permanent solution, Sao Paolo fills in the lightest of scars using body colors and the marks are barely noticeable after they disappear and the skin looks smooth.